Coalition established to close health equity gaps on Chicago's West Side brings elected leaders, policy experts and Chicagoans with lived homelessness experience for candid conversations
CHICAGO (Nov. 15, 2023) – Nearly 150 people gathered at Malcolm X College in Chicago on Nov. 7 for "Bridging the Equity Gap: A Wellness West Forum on Health and Housing" to discuss the critical issues at the intersection of health and housing.
The full program is available at https://youtu.be/YJq6hHIebTg. 
The forum was hosted by Wellness West, a coalition of more than 40 West Side organizations dedicated to creating a transformational continuity of care among hospitals, community health centers, community mental health centers, social services, and other critical points of care.
The event began with opening remarks from Toni Preckwinkle, President of the Cook County Board of Commissioners, and Tesa Anewishki, CEO of The Loretto Hospital and Board Secretary of Wellness West.
"I'm here today to recognize the important work of Wellness West," said President Preckwinkle. "It's well documented that families that live in poor quality of housing can experience an array of negative health outcomes."
"Collaboration among services providers is essential," said Ms. Anewishki. "At the heart of the Wellness West model is the idea of an uninterrupted continuity of care. We all know that the interruption in care – that space between service providers – is where we lose people. That's where folks step backward instead of forward in their wellness journey."
Misty Drake, Executive Director of Wellness West, then provided a report on the work and progress of Wellness West, now in its second year of operation. Ms. Drake shared that Wellness West has conducted nearly 18,000 Health Risk Assessments in the community and that 37% of respondents report either being currently housing insecure or at risk of being housing insecure in the short term.
Next, a panel of three Wellness West clients shared their personal stories. Wellness West clients Sonya Hughes, Angel Diaz and Renee Washington spoke poignantly of their challenges that led to losing their housing, and then their steps gaining it back through Wellness West and the Flexible Housing Pool. Telemundo Chicago's Jessica Suarez served as moderator.
The evening concluded with a panel of six health and housing leaders who spent more than an hour discussing a wide range of policy and program-oriented issues. The panelists were: Dr. Karen Barbee-Dixon, Chief Operating Officer, Habilitative Systems, Inc.; Brandi Calvert, Vice President of Housing, Center on Housing and Health; Dr. Sadhana Dharmapuri, a practicing pediatrician and Interim Chief of the Division of Adolescent Medicine at Cook County Health; Dr. Thomas Huggett, a family physician and Medical Director of Mobile Health at Lawndale Christian Health Center; Marisa Novara, Vice President of Community Impact, Chicago Community Trust and formerly Commissioner of the Chicago Department of Housing; and Athena Williams, Executive Director, Oak Park Regional Housing Center. V103-FM's Darryl Dennard served as moderator.
The panelists covered a range of topics at the intersection of health and housing, including how housing impacts health; the impact of housing insecurity on youth populations; the pandemic's impact on housing; the impact mental and behavioral health has on housing security; the key policy questions and promising innovations to address housing insecurity; and the need for grassroots advocacy for more housing resources.
Across virtually every health metric, the West Side of Chicago suffers disproportionately from higher rates of chronic disease, acute ailments and mental illness, the result of historic disinvestments, structural racism and inadequacies in the current health and social service system.
Wellness West was established to address this inequity. The Wellness West coalition consists of over 40 proven, mission-driven health care and social service providers who have deep experience serving the diverse communities of the West Side. Founding partners of Wellness West include: Access Community Health Network, Ann and Robert H. Lurie Children's Hospital of Chicago, Bobby E. Wright Comprehensive Behavioral Health Centers, Cook County Health, Habilitative Systems, Inc., Humboldt Park Health, The Loretto Hospital, Rush University Medical Center and Sinai Chicago.
Wellness West is funded by the Illinois Healthcare Collaboratives (HTC) initiative of the Illinois Department of Healthcare and Family Services that is investing in closing gaps in care and increasing health equity for Illinois.
More information about Wellness West is available at www.wellnesswest.org.
# # #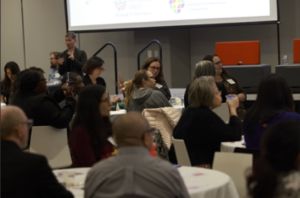 PHOTO #1 CAPTION: Nearly 150 people attended Wellness West's health and housing forum Nov. 7 at Malcolm X College in Chicago.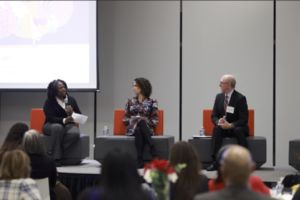 PHOTO #2 CAPTION: Experts on housing and health participated in a panel discussion Nov. 7 at Wellness West's forum. From left: Athena Williams, Executive Director, Oak Park Regional Housing Center; Marisa Novara, Vice President of Community Impact, Chicago Community Trust; and Dr. Thomas Huggett, Medical Director of Mobile Health at Lawndale Christian Health Center.