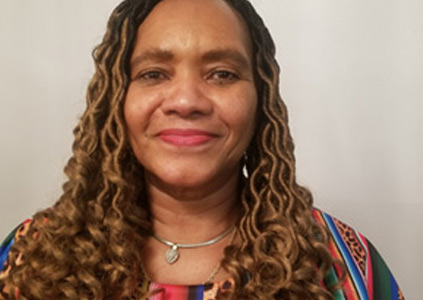 Louise Williams is a Community Health Worker for North Lawndale Employment Network (NLEN), a Wellness West partner.
Every day she serves as an advocate and supporter for members of her community. Louise works with a lot of people who have just been released from prison and are attempting to carve out a new path for themselves.
"Many coming out prison have no one to rely on," Louise says. "The first few weeks out of prison is a fork in the road of their life. They can head in one direction or another. I try to show them that a path to health and wellness is possible."
Louise says homelessness is the biggest challenge. She estimates that of the eight people she sees in a typical day, six are housing insecure. Housing instability can create a lot of bad health-related outcomes.
She says that homelessness is often thought of as folks living on the street or in a shelter. But it's more complicated than that.
"Many people manage to sleep under someone's roof and then move from place to place. But without a place to call your own and establish an address, it's hard to build a positive future for yourself."
The most rewarding and complimentary line she heard from a client recently was "Ms. Williams, you're making me want to go to the doctor." She sees this comment as representing why she is really there; to earn the client's trust and put them in touch with more people and resources.
Louise believes that the Community Health Worker is essential because the CHW brings two key elements to that first interaction.
First is expertise. Louise is extremely knowledgeable about the help and resources that are out there and can help a patient navigate what is often an overwhelming health care system and broader social service system.
Second is empathy. Louise is friendly, non-judgmental and takes the patients "as they are". "I see a client in front of me as a human being, made in God's image. That's the starting point," Louise says.
Ironically, Louise never thought of herself as an outgoing person. But through her work as a Community Health Worker, she has become outgoing in the service to others.